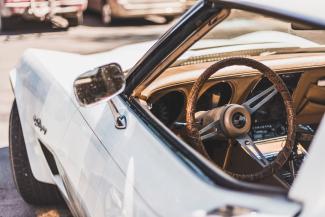 How to Finance Your Dream Car
Last Updated: February 23, 2023
Car ownership is essential for many, especially for those who live far from public transportation. While you may choose to drive something practical for your everyday commute, errands and travel, you probably have dreams of driving a car that's fun, sporty and luxurious. The first step to saving money is always to have a goal in mind. Think about exactly which car you'd like to buy and start researching prices. You should have a good idea of exactly how much you would need to pay for your vehicle. Luxury vehicles can range in price anywhere from $50,000 to well over $100,000, so be specific with your research—decide on make, model, year, interior, exterior, and add-ons. If you're looking to buy an exotic car, the price point will be even higher, so be prepared for some sticker shock.  
Plan Financing Options
Once you have a good idea of how much your dream car will cost, it's time to start thinking about your financing options. There are several ways to finance your dream car, each with its own set of pros and cons. You should weigh your options carefully and choose the one that best suits your budget and circumstances.
Auto Loan
For luxury cars with a lower price point, an auto loan is pretty simple to attain. Your interest rate will be determined by factors like your credit score, loan term, and down payment. Many banks and lenders offer pre-approvals that won't require a hard credit check, so you can shop around and research loan details without it affecting your credit score. Here are a few things you should keep in mind regarding auto loans:
A longer loan term means lower monthly payments but typically carries a higher interest rate and, therefore, a higher total price over time.
A larger down payment equates to a lower interest rate and lower monthly payments.
Credit history and ability to pay—determined by your monthly debt-to-income ratio—are important factors in being approved for a loan.
For exotic cars, in particular, your credit score should be top-tier, and you should plan to make a down payment of about 20%. Many exotic auto loan lenders also like to see a history of an auto loan within 50% of the requested amount.
Leasing
If you're unsure after asking yourself, "should I finance a car?" or worried about its depreciating value, you might consider a lease instead. Most car leases last 24 to 48 months. You will make payments every month, and at the end of the lease term, you have the option of buying the car outright or giving it back. The advantages of leasing include the following:
Lower or zero down payment
You haven't purchased a depreciating asset
Available trade-in for a newer car at the end of the lease
The cost of normal maintenance and repairs is sometimes included
Leasing does have its disadvantages as well:
Limits to yearly mileage
Fees for mileage overages or excessive damage and repairs
Little customization available
Ultimately, each person and car are different, and it's up to you to decide whether you'd like to lease your dream car or buy it outright.
Save for Your Dream Car
Whether you're leasing or buying, you should plan out a budget and save before taking home your new vehicle. By starting to save as early as possible, you will increase your chances of making your dream a reality.
First, use your research to figure out how much you'll need to put down. Fees can include a down payment, taxes, title and registration. Thinking about these fees will help you set your initial savings goal
 Also, you may need to consider the new luxury tax that came into effect on September 1, 2022. The luxury tax will apply to vehicles that meet the definition of subject vehicle under the Act and are priced or valued above the $100,000 price threshold, unless an exception applies.
 Next, calculate the estimated monthly cost of owning (or leasing) your vehicle to determine whether it realistically fits within your budget. Common auto expenses include:
Loan or lease payments
Insurance payments
Maintenance and repairs
Registration and inspection fees
Gas, tolls and parking
Customizations
Cleaning and detailing
Emergency towing and roadside assistance
It's a good idea to have some savings set aside even after you buy your car to account for any emergency repairs that may arise.
Final Thoughts
In conclusion, owning a luxury or exotic car is an exciting dream that can become a reality with proper planning and saving. By setting your sights on a specific car, researching financing options, and saving for the purchase, you can make your dream a reality. Remember to factor in the costs of taxes, registration, insurance, maintenance, and other expenses when creating your budget and savings plan. Financing your dream car may not be as hard as it seems, but with a variety of options available, it can be tailored to fit your credit score and budget. Don't let the high cost discourage you. With a bit of determination, you can finally drive your dream car on the road.
 
If you are ready to plan your finances, you can use free tool. Take a 3.5-minute questionnaire to get your free financial plan.
This content is developed from sources believed to be providing accurate information. The information provided is not written or intended as tax or legal advice and may not be relied on for purposes of avoiding any Federal tax penalties. Individuals are encouraged to seek advice from their own tax or legal counsel. Individuals involved in the estate planning process should work with an estate planning team, including their own personal legal or tax counsel. Neither the information presented nor any opinion expressed constitutes a representation by us of a specific investment or the purchase or sale of any securities. Asset allocation and diversification do not ensure a profit or protect against loss in declining markets. This material was developed and produced by Advisor Websites to provide information on a topic that may be of interest. Copyright 2022 Advisor Websites.