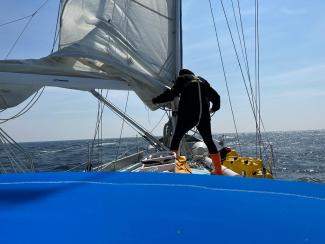 Day started off with some coffee and smoothies and sunshine.  
As we continue to head East North East the wind and seas built gradually during the day to 15-foot creasting swells and 32 knots of wind.  
Not much rest as we had to double main reef the main and furl the genoa.   
This lasted through the rest of the day and night but managed to wrangle up some fish soup and rice.  
Winds thankfully began to ease late in the evening and ended with a blood moon sky.  
We continue to get updates from home and our thoughts and prayers go out to the families affected by the fires.