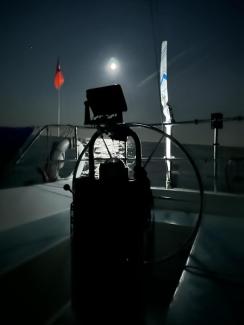 So far the journey has been all about finding our sea legs.  
As the ocean had different plans.  
Left the dock around 9:30 am on Monday morning with family seeing us off from DYC.  
The winds were strong and no time for guitars and straw hats.  
It was a cold Nova Scotian day and the wind was blowing. 
Lots of emotions as we embarked on our journey to cross the North Atlantic to arrive at our final destination of Portugal. 
We feel grateful for the love and support of our families who without their contributions couldn't have made this dream and journey possible.  Thank you!
As we passed the Maritime Museum the signal flags were raised by Derrick, Eamonn and Ellen and we had family and friends at the Queens Marque wishing us safe voyage.  
We would like to also thank DYC and our racing team onboard The Second Lady as well as Herb Hilgenberg who is providing us with weather reports on a regular basis to provide us safe passage.  
As we embark on this journey we attach gratitude and wish to shine a spotlight on The Nova Scotia Sea School.   Please help support our youth.  
Day 1 has come to a close and I am heading up to take watch on the first night.  The moon has lit up the sky and and there are stars that pepper the night .  
the rolling sea will take some time getting used to no king size beds on 36' boats.
Wishing you well.  Will report back again.